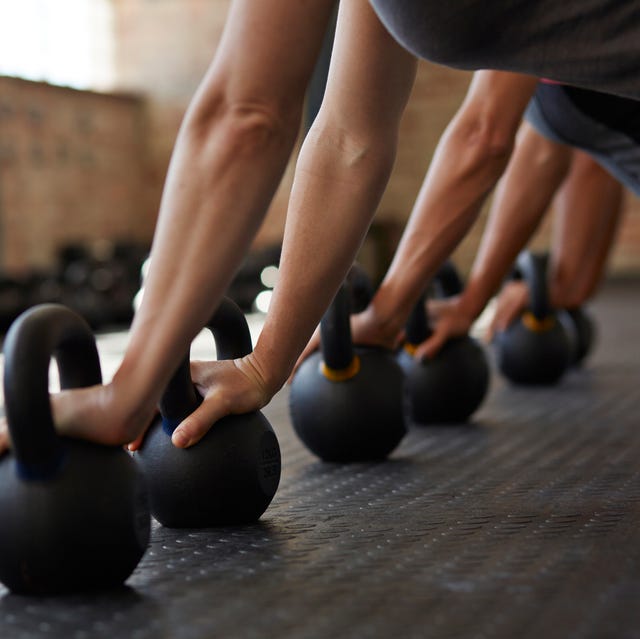 Klaus VedfeltGetty Images
If your loved one goes to CrossFit, they probably spend a ton of time at the box, or gym. Most CrossFit gyms offer the basics, but real enthusiasts love to have their own jumprope. And more often than not, CrossFit requires special gear, like wraps.
You don't need to buy a full-on squat racks and barbells for Olympic lifts, but there are plenty of great gift ideas that support the CrossFit lifestyle. Here are the 22 best gifts to help your favorite CrossFitter stay on top of their toughest WODs.
RPM Speed Rope 3.0 (True Black)
Nailing those double unders requires a solid jump rope. This pick from RPM will last through the most brutal WODs. 
JerkFit Weight Belt (Small)
Make sure your love one is protected. This belt provides extra leverage and support for deadlift days. 
Rogue Fitness Wrist Wraps
Proper form is essential in CrossFit. These wraps will keep wrists in place during training. 
JerkFit WODies Full Palm Protection
JerkFit
Olympic lifts can be hell on the hands. These grips from JerkFit keeps palms protected.
Mako Short
Rhone
These streamlined shorts are sweat-wicking, offer four way stretch fabric and a built-in compression liner to keep everything tight.  
Knee Sleeves
Nordic Lifting
CrossFit can seriously stress knees with all those squats and box jumps. Gift extra support with these compression knee sleeves. 
Rocktape Rock Guards
Rocktape
Proper deadlifting can take a toll on your shins. These guards will offer extra protection for your favorite athlete. 
Smartwool Men's Short Sleeve Shirt
CrossFitters work up quite a sweat. These lightweight wool shirts will keep your loved one dry and comfortable. 
Hu Kitchen Dark Chocolate Bars
Many CrossFit athletes follow a paleo lifestyle. Give them a sweet treat with these paleo chocolates that fit their diets and are delicious, too. 
NOBULL Men's Training Shoes
Head into any CrossFit gym and you'll see these everywhere. Available in assorted styles and colors, these shoes are perfect for lift and cardio days. 
Buckingham Backpack
HERSCHEL SUPPLY CO.
nordstrom.com
$110.00
A good gym bag is necessary for any CrossFit athlete. This one includes several compartments to store wraps, jump ropes, and personal items.  
Corkcicle Canteen Sport Collection
Corkcicle
amazon.com
$34.95
Every gym enthusiast needs a good water bottle.  This canteen keeps drinks cool for post-workout hydration.
Whoop
Serious CrossFit enthusiasts geek out over their fitness data, and this tracker is one of the most powerful wearables available. Your loved one can easily monitor sleep, vital for performance, and how much rest they need to perform their best. The Whoop live function allows them to share their stats on social media to compete with others in their fitness community. 
Jabra Elite Active 65t Earbuds
Music makes open gym workouts a thousand times better. These wireless earbuds are a solid, reliable choice. 
Plyometric Box
BalanceFrom
amazon.com
$110.79
This plyometric box is perfect for the CrossFitter who wants to work out at home. Plus, it's soft which means no banged up shins. 
TriggerPoint GRID Foam Roller
Trigger Point Performance
amazon.com
Stretching and foam rolling are important after a brutal workout. This basic foam roller takes up little space and comes with an instructional video.  
Nutri Ninja with 1000 Watt Auto-IQ Base
This mini blender is perfect for quick breakfasts. Gift it to your loved one with a can of their favorite protein powder. 
Valeo Ab Roller Wheel
CrossFit requires a strong core. This wheel will help your CrossFit athlete shape up their abs. 
Letsfit Resistance Loop Bands
Mobility is an overlooked, but important component of any exercise routine. This set is handy for a variety of movements that will help your CrossFitter get strong.
HEX Performance Anti-Stink Single Dose Detergent
HEX Performance
amazon.com
$13.99
Normal detergent isn't always tough enough to eliminate odor in workout clothes. This specially-formulated soap will keep your  husband smelling fresh. 
Chasing Excellence: A Story About Building the World's Fittest Athletes
Fitness Coach Ben Bergeron reveals what it takes to be one of the world's best CrossFit athlete.  
Kettlebell Kitchen
kettlebellkitchen.com
$10.40
This is ideal for the Paleo CrossFit athlete who is short on time. Meals are paleo, easily reheated, and delivered twice a week to your loved one's gym. Eating healthy really can't be any easier.