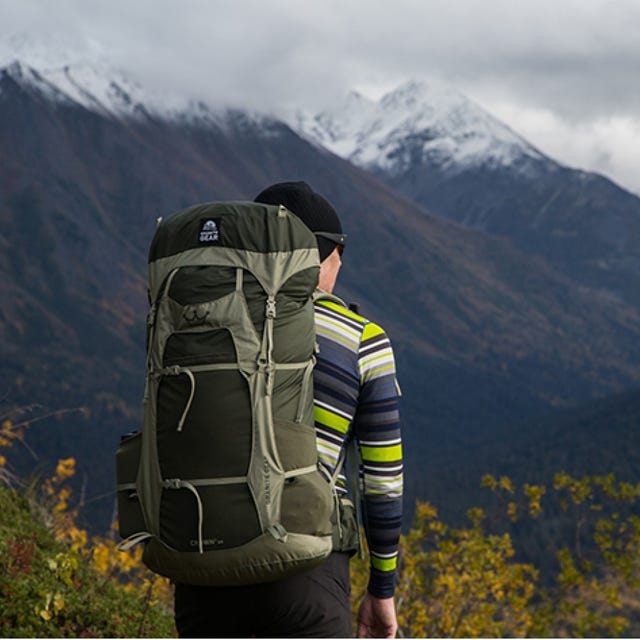 Granite Gear
While we're all about bringing back the backpack for guys, your typical Jansport simply will not do when you're hiking. For one, there's not a whole lot of room for all the gear you'll need in a rucksack, and for two, they're probably not the most durable option when you'll be battling the elements. Instead, opt for a hiking-specific backpack.
Hiking backpacks all have a few common features. For one, they're durable as hell, often made out of a carbon fiber or other rugged material that won't tear or flood your gear with water.
They hold a hell of a lot more than your typical bag—their carrying capacity can range from 30 to 50 to even 70 liters. That's a lot of room.
And then there's the straps. As you wander the wild, you're definitely not going to want something that can slip off. Many hiking backpacks have straps not just for your shoulders, but your chest and waist as well for an extra-secure fit.
Now, when it comes to choosing your specific pack, it's important to keep a few things in mind. We encourage considering what sort of adventure you're about to head out on. For example, if you're gone for a week-long trek in the woods, you'll probably need a lot more carrying capacity than you'd initially think. But if it's just a weekend getaway, you might just need something that could carry 35 liters. Always take your adventure into consideration.
If you're trekking for long lengths of time without breaking, you may also want to consider a pack with a hydration reservoir, which has a tube that lets you drink from it on the go. Once again, you'll have to take into consideration how long you'll be on the trail—you may need a bigger reservoir.
And lastly, the best packs are those that are broken in. If you're getting ready for an epic adventure, take a weekend ahead and head out of a simpler trail just to get a good feel for the pack to make sure it holds up on a hike. You won't want to regret your choice later.
Check out the 15 best hiking backpacks below and pick one up before wilding out.
Advertisement – Continue Reading Below
Ursack Allmitey Bear Backpack
Weight: .85 pounds
Capacity: 10.65 liters
They call this behemoth "virtually puncture-proof," and we believe it. This hyper-durable bag even comes with an integrated cord for tying to a fixed object.
Osprey Packs Aether Ag 70 Backpacking Pack
Weight: 2.5 pounds
Capacity: 70 liters (medium)
This Osprey hiking backpack is really malleable, with a removable top-lid and compression straps. Plus, there's useful mesh pockets for all your water needs.
4Monster Hiking Daypack
Weight: 4 ounces
Capacity: 16 liters
An all-around awesome, budget hiking backpack option. It's super space-friendly, collapsing into a small sack the side of your hand.
Hyperlite Mountain Gear 4400 Southwest Pack
Weight: 2 pounds
Capacity: 70 liters (medium)
This one's not made for a hike so much as an all-out adventure. It hold up to 70 liters of gear, and the three external pockets are made extra tough to protect the gear you need quick access to.
ULA Circuit Backpack
ula-equipment.com
$255.00
Weight: 2.5 pounds
Capacity: 68 liters
This pack's got a serious punch for only 41 ounces. Made from carbon fiber, it'll protect your gear from every element it meets.
Deuter Aircontact Lite 65+10 Backpacking Pack
amazon.com

$220.00

$165.00 (25% off)
Weight: 4.6 pounds
Capacity: 65 liters + 10 liter extension
Comfort is the name of the game with this one. Breathable padding made from foam help you trek further on the trail.
Greogry Baltoro 75 Pack
Weight: 4 pounds (medium)
Capacity: 75 liters (medium)
Another more modular option with a removable hydration sleeve that can convert it into a simple daypack—making it the best daytime hiking backpack we could find. It even comes with a raincover.
REI Co-op Flash 55 Pack – Men's
Weight: 2 pounds 10 ounces (medium)
Capacity: 55 liters (medium)
The best hiking backpack brands are usually the most storied. REI's own stellar option is perfect for a long weekend or a night in the woods. It has comfy compression straps and a roll-top closure that let you collapse parts of the bag you're not using.
Berghaus Freeflow 25 Litre Daysack Travel Bag Red
Weight: 2.5 pounds
Capacity: 25 liters
The bag's curved design is ideal for maximal airflow—important when you're sweating on the trail. Especially since the waist and chest straps keep it close to you at all times.
N Nevo Rhino 45L / 50L Internal Frame Backpack
Weight: 2 pounds 2 ounces
Capacity: 45/50 liters 
The best hiking backpack under $100 still has a ton to offer. Though not as adjustable as other options, this pack still soars with a more rigid design that's secure and holds a very solid 50 liters of stuff.
High Sierra Appalachian 75 Internal Frame Backpack
Weight: 5 pounds 8 ounces
Capacity: 75 liters
Built for the longest trails in the world, this rigid frame bag holds an incredible 75 liters worth of gear. Plus, the inner frames adjust to fit the curve of your back.
Granite Gear Crown2 60 Pack
Weight: 2 pounds 4 ounces
Capacity: 60 liters
This roll-top, ultra-light option can carry up to 35 pounds of gear, and the adjustable hip-belt has two large, water-repelling pockets for easy access to essentials.
Mystery Ranch Glacier 70L Backpack
Weight: 6 pounds 6 ounces
Capacity: 70 liters
The best expedition backpack around—more "surviving in the dead of winter" than just a "hiking" pack. It can haul up to 70 liters of essentials in a single, enormous, but lightweight bag.
Sierra Designs Flex Capacitor
sierradesigns.com
$149.96
Weight: 2 pounds 9 ounces
Capacity: 40 liters (small-medium)
A perfect mid-priced hiking pack. Choose between small or large capacities and stuff even more gear in with a patent-pending gusset system that lets the pack expand to hold even more.
Advertisement – Continue Reading Below