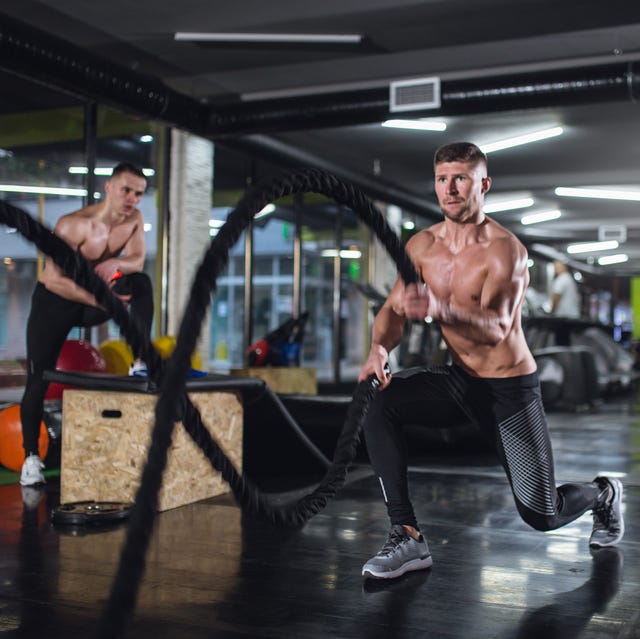 FluxFactoryGetty Images
It's long past time to ditch your baggy sweats, dude.
As exercise clothes are becoming more streamlined, guys are embracing leggings. And if they're not, they should. The tight-fitting lower layer offers a slew of benefits, especially if they're made out of compression materials. Those snug garments can aid in promoting muscle recovery during and after workouts by increasing blood flow to your legs.
Whether you want the added benefits of the tight-fitting gear or not, you'll cut a bold profile in the gym. You can wear compression pants as a base layer under shorts, or you can be really bold and rock them on their own, sans cover-up. For guys who aren't exactly sure how much they want to show, you can even accessorize with a "dick towel," à la The Rock, who is a proud leggings-wearer.
These 10 pairs of tights can serve as functional pieces of clothing, style statements, and recovery tools, making them some of the most versatile pieces of clothing you can put on your body.
Advertisement – Continue Reading Below
Nike Pro Tights
This solid base layer from Nike hits every mark. Along with comfortable compression for just about any activity, the material offers plenty of support and mesh on the inner leg area for enhanced breathability.
Strider Compression Tight
pacterraathletics.com
$52.00
These super-comfortable leggings are built for training on the go. The convenient, low-profile pocket on the hip make them a great option to put your keys during a workout. 
Nightlife Tight
brooks
brooksrunning.com
$96.00
These fitted running tights are made for road warriors who don't let the environment dictate their workouts. Reflective patterning give them both a splash of color and a key safety feature for night training sessions. 
Tani Move Performance Leggings
taniusa.com
These high-end tights are made from stretchy Italian materials for a perfect fit. They're great for low-intensity activities like yoga or just lounging around. 
Under Armour Men's Threadborne Vanish
Under Armour
amazon.com
$50.00
These two-toned tights are made from UnderArmour's MicroThread material with an ergonomic design that the company claims will prevent chafing and wick sweat. 
WOLACO Fulton Full Length Compression Pants
These American-made tights are ideal for the busiest exercisers, with a dual pocket design for phones and other gear you might need to stow between points A and B. 
2XU MCS Run
The 2XU brand offers some of the best tights in the game, with graduated compression that the company claims will improve speed and recovery. These leggings have targeted areas on the quads and calves specifically meant to reduce muscle fatigue. 
ASICS Lite-Show Winter Tights
When the temp drops, these are the tights you want to be rocking. They also feature 360-degree reflectivity for maximum visibility and safety on dark winter roads. 
adidas Response Tights
These basic, breathable tights offer compression and support for any workout. Bottom zippers on the legs make it even easier to peel them off after training. 
EvoShield Recovery DNA Compression Tights
EvoShield
amazon.com
You shouldn't sport these super-tight compression tights during physical activity — these are strictly for your post-workout wear. The patterns on the legs are specifically positioned to improve your blood flow and muscle recovery, while the stretchy fabric keeps you comfortable even with the snug fit. 
Advertisement – Continue Reading Below